The adrenal emergency card
In an emergency you may not be able to speak and give vital information to alert others about your special health needs. Medical providers must sometimes treat emergency patients without having basic medical information about the individual or any way to contact someone who could provide vital information.
In an emergency, having the correct medical information on hand can save lives.
Always be ready for an emergency!
The Card
The card is made of durable PVC.
Card dimensions are 54 x 85 mm (same as your bank card).
The card has been designed with simplicity in mind.
Type of Cards available
This Card includes medical information to avoid a life-threatening adrenal crisis.
Available in 5 languages. Front and reverse. Español -  Catalán – Euskera - Gallego and English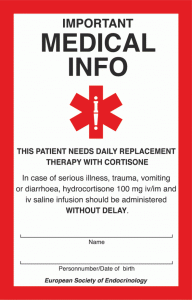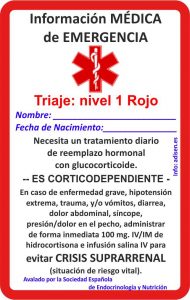 Your Emergency Medical Card can be invaluable to attending medics or other medical personnel providing treatment. Keep this card with your identification, driver´s license or vehicle registration, in your wallet or purse, so that it is available to police and other first responders in case of emergency.
Complete and send the Emergency Medical Card for Adrenal Crisis